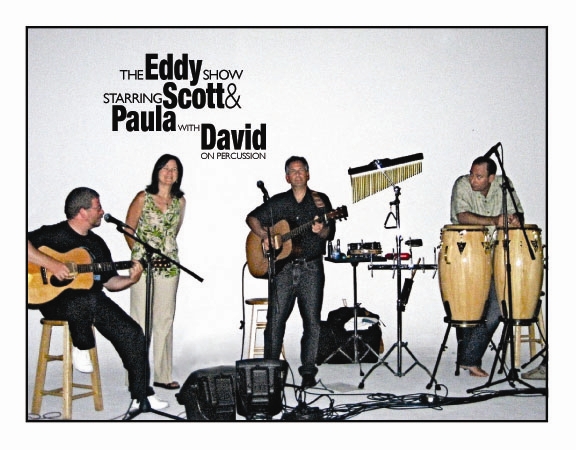 THE EDDY SHOW STARRING SCOTT & PAULA (WITH DAVID ON PERCUSSION)
Acoustic guitars and great vocals featuring long-time friends Eddy Eisenberg, Scott Steinman, Paula Harris and Dave Harris.
The band plays great versions of hits from Dylan, Tom Petty, The Beatles, Simon & Garfunkle, CSN&Y, and many more. Sing along or just kick back and listen... the Eddy Show is alway a fun time.
ROXY STONE'S OFF THE WAGON
An eclectic mix of Brazilian Choro, Gypsy Jazz, Texas Swing, Blue Grass, New Grass, Country Rock and who knows what else!
The band includes: Roxy Stone on vocals, Phil Goldman on mandolin and guitar, Bob Hasty on fiddle, Scott Leff on guitar and vocals, Ira Sussman on up-right and electric bass and Dave Harris on drums and percussion.
DR. BOMBAY
If you're aching for killer covers from the 70s, 80s, 90s and today, give your nose a twitch and call for Dr. Bombay – they'll come right away!
Fronted by the beautifully good witch Cari Alexander, with Lee Golub on drums, Scott Kaufman on keyboard, Geoff Koss and Andy Peterson on guitars, Bob Jenson on bass David Rhind on trumpet, and Dave Harris playing percussion. You'll find their bewitching brand of music downright magical.